THE ENTREPRENEURS: Keith Nelson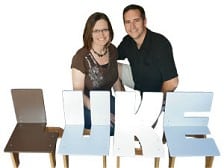 About six years ago, Keith Nelson was doodling in his sketch book when an idea popped into his head.
"I think I saw some kids' blocks with some letters, and I thought, 'You know, it would be cool if you took some letters, folded them in half and made a chair.'"
After sketching out some concepts for what a letter chair might look like, he began researching the concept online, prepared to find out that someone had already come up with the idea.
To his surprise, there was nothing at all like it on the market. "So I thought, that's kind of crazy. Maybe I'll do it," he recalled.
Turning concepts into art was nothing new for Nelson, a self-employed artist who for the past dozen years has made a comfortable living producing paintings, jewelry and other works of art. Taking an idea and developing it into a profitable enterprise of its own was a different story, however.
"It's been the biggest undertaking that we've ever gone through," said Nelson, seated at his dining room table with his wife and business partner, Tomi. "Coming up with an idea no one has ever seen, no one has ever heard of, no one has ever made, and then deciding to make it, promote it, sell it, get it in front of people. … I'm not a marketer or a businessman, but that's kind of what I have had to become now to get this going."
Shortly after the couple moved into their home in Grimes in May, Nelson designed and built a backyard studio/workshop that serves as the base of operations for both his art business and now for his fledgling custom kids' furniture company, Kazzoinks LLC. Tomi, an accountant with Iowa Realty Co. Inc., keeps the books for Kazzoinks, an extension of the bookkeeping she's done ever since Keith went into business for himself.
Starting the business was by no means a slam-dunk. After spending thousands of dollars and nearly three years to develop the original design, he concluded it would be far too expensive to produce and went back to the drawing board. "Now we have something that's much easier to produce," he said.
With 26 letters to choose from, offered in 11 different colors and with a matching table, the product is a bit more complex than one might think. The biggest challenge has been developing a process to produce them efficiently, Nelson said. "So I've concentrated on keeping it simple and not adding a lot of bells and whistles at this point," he said.
Kazzoinks contracts with Swan Creek Cabinet Co. in Boone to produce the wooden parts for the chairs and tables, which Nelson finishes by hand in his workshop. Swan Creek has occasionally finished the chairs as well when larger numbers are needed quickly, such as when Nelson was preparing for a trade show last year.
"So once we get the volume going, I can outsource them to do all of the production," he said. "But for the time being, it's more cost-effective if I have them supply the parts, and then I can do the finish work in the studio. That gives us more margin on the product."
In addition to keeping it simple, the Nelsons knew they wanted to use the business to give back to those less fortunate. They were inspired by the book "Start Something That Matters" by Blake Mycoskie, the founder of TOMS Shoes. Founded in 2006, TOMS Shoes donates one pair of shoes to children in impoverished countries for each pair sold. In that spirit of one-for-one giving, they decided that for each letter chair sold, they would donate one item of clothing to a child in Haiti through 500 Dresses, a nonprofit started by his sister, Kim Harms.
"I've made a decent living as an artist in Des Moines, Iowa, of all places, and if that doesn't prove there's a God out there, I don't know what does," Nelson said. "So from the very beginning, I thought I'd like to have a company that makes a lot of money, but I also want to be able to help other people."
The business has experienced a slow ramp-up of orders since launching a year and a half ago, through word of mouth and a trickle of online sales. In the past several months, Kazzoinks has begun reaching out to local retailers to display samples of the chairs at their stores, among them Lincoln & Lexi at Jordan Creek Town Center, Suite Dreams for Kids in Clive and Treasure House Gifts in Ankeny. Homemakers Furniture Inc. has expressed interest in selling the chair sets as well, Nelson said, as has Des Moines-based Sticks Inc. On Kazzoinks' website, www.kazzoinks.com, an ABCD chair and table set is priced at $375; a set of officially licensed Iowa Hawkeyes black and gold I, O, W and A chairs sells for $395.
Whether Kazzoinks will remain a predominantly custom-order product or move into the mass retail realm remains to be seen, Nelson said.
"People like the customization capability of it," he said. For instance, rather than ordering letters to spell out an entire name, customers commonly order the first letter and then have their child's name written across the backrest of the chair. However, there is also good potential for mass production of popular sets, such as an ABC table and chair set.
Like the product concept, there was a certain amount of serendipity behind the name itself, Nelson said. Due for a meeting with his patent attorney, he was under pressure to come up with a name.
"Actually, I was just taking a nap and woke up and thought, 'kazzoinks.'" Doing a quick Google search, he found the word wasn't trademarked. He's even come up with a reverse acronym to fit it: "Keith's Awesome Zip Zappy Original Inspired Neat Kids' Stuff."
It's just about enough to make you say kazzoinks, isn't it?
Q & A
What is your guiding principle?
Work hard, do a good job, but don't sacrifice my family in the process.
What has been your biggest challenge?
Working in areas where I'm constantly out of my element – business-related stuff.
Advice for other entrepreneurs?
Be stubborn – get used to roadblocks. And be flexible. We spent two to three years and thousands of dollars on a design I liked, but when we got down to it, it was going to be a loser.
My Aha Moment: