Tollakson honored by EasterSeals Iowa
Enhanced facilities by Hubbell Realty enable service expansions at Camp Sunnyside
Rick Tollakson has literally changed the landscape of Camp Sunnyside for the better, and on Tuesday evening, Easterseals Iowa recognized the longtime supporter and benefactor by naming a recently remodeled building as the Rick Tollakson Wellness Center.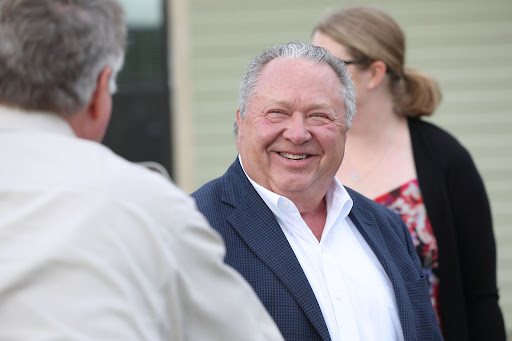 Tollakson, president and CEO of Hubbell Realty Co. since 2004, has been a driving force behind several significant construction projects to improve the quality of facilities at Camp Sunnyside.

Over the past decades the camp, situated on 40 acres just south of Northeast 66th Avenue, has grown from its origins as a summer-only camp to a year-round, comprehensive campus serving hundreds of children with special needs annually in addition to summer-camp fun. Community leaders and supporters celebrated a ribbon-cutting for the new facility Tuesday evening at Camp Sunnyside.

"It's just a very special place for us," Tollakson said in an interview a few hours before the event, joined by Easterseals Iowa President and CEO Sherri Nielsen. "When you understand the breadth of what they do at this camp, it's just amazing."

Last September, Tollakson led his company in conducting an "Extreme Build" project to construct the new Child Development Center at Camp Sunnyside. The new 13,000-square-foot building, built in a lightning-fast seven days, doubled the capacity of children who can be provided child care services from 60 to 120 kids

"We just opened [the Child Development Center] in October, and we're already at 94 children," Nielsen said. "So that talks right there about the need. We have a waiting list; as soon as we can get three additional staff people hired then we'll be at capacity in the new building."

Additionally, the project enabled Easterseals to remodel the space formerly used as the child development center into the new wellness center that now bears Tollakson's name. The center was a response by Easterseals to a request for proposals from the Polk County Board of Supervisors. It expands mental health services in the county by adding a crisis stabilization unit on one side of the building, and additional outpatient counseling on the other side of the building.

The crisis stabilization unit in the wellness center has a comfortable living-room-like setting along with a full kitchen, along with other meeting rooms and six nicely decorated bedrooms with bunk beds to accommodate up to 12 children at a time.

"It's really a place that mom, dad and the family can come with the child to kind of have a reset," Nielsen said. "We can make sure they have coping skills and can practice those, and just get a little break from the day-to-day pressure that sometimes makes brain health issues more difficult to deal with."

The outpatient counseling side of the wellness center is currently staffed with two counselors. Nielsen said her organization will be hiring four additional counselors to fully staff it.

"At Easterseals we've traditionally served individuals with developmental disabilities, intellectual disabilities and brain injuries, and it's been very hard to access counseling services for them," she said. "So we really wanted to make sure that the whole person can be served."

The new Child Development Center was the second Extreme Build that Hubbell Realty conducted at Camp Sunnyside. The first was in 2013, when Tollakson proposed tearing down the eight original cabins and replacing them as part of an Extreme Build project.

"I was a little bit shocked by the conditions of the cabins, and I thought this would be a fantastic little project for us to do," Tollakson said. Rather than simply replacing the cabins, however, they ended up building two brand-new, 7,500-square-foot lodge buildings, each equipped with storm shelters. So it was a much bigger project [than anticipated], and it was extremely rewarding and we had a great time."

Asked the value of the buildings that Hubbell Realty has constructed for Easterseals Iowa, Nielsen said the two projects' value totals more than $4.5 million, but the real answer is that the contributions are "priceless," she said.

Tollakson reflected on the positive attention that construction projects bring to nonprofit organizations, noting that many of his trade partners have also generously donated to the camp. "If you go through some of these buildings, you'll see the names of a huge number of our trade partners that donated very generously to help the camp with these buildings, and they're proud to have done that," he said.

With Hubbell Realty leaders on the Easterseals board, involvement in the annual Corporate Regatta fundraiser and volunteering efforts on a regular basis, Tollakson foresees that the company will play a continuing role with the nonprofit.

"I imagine we'll probably always be involved in the camp — there'll always be another project to do somewhere along the line," he said. "It's just a special place and buildings will need to be remodeled and different things added onto as services change. So it's just a special place for our team."
Facebook Notice for EU! You need to login to view and post FB Comments!