Trade group helps fund education programs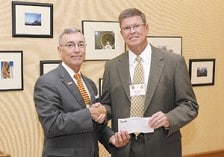 Master Builders of Iowa has donated a total of $325,000 to Iowa State University, the University of Northern Iowa and the Iowa Department of Education for programs related to the construction industry.
Iowa State's College of Engineering received $150,000 to be used in the creation of the Tom and Ro Jellinger Laboratory to house the school's construction engineering program. Master Builders has donated more than $625,000 to the program.
UNI received $75,000 for its construction management program, which could become the state's first four-year accredited program if approved by the American Council for Construction Education.
The Iowa Department of Education received $100,000 to help education and construction industry representatives develop statewide standards for commercial construction education and provide information to students on how to advance their construction careers.