Uncertainty, shifting focuses the norm for theaters as pandemic persists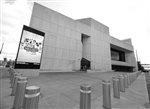 Seven months after they were shut down because of the coronavirus pandemic, venues such as Des Moines Performing Arts and Hoyt Sherman Place remain closed for live performances, resulting in cost-cutting measures and temporary shifts in their mission.
However, the Des Moines Playhouse moved forward with plans to reopen for live performances to limited-capacity audiences earlier this month.
The Des Moines Playhouse relies predominantly on volunteer performers and staff to put on a show, while Des Moines Performing Arts and Hoyt Sherman must generate revenue to pay artists and full-time support staff to stage a performance, whether it be a concert or a Broadway Show, which can run $300,000 to $400,000 a week to present.
The Playhouse put on four drive-in-theater-style performances in its parking lot over the summer. Now, with that experience under its belt, it moved ahead with two shows, running alternating weekends, with limited seating following COVID-19 protocols listed on their website. They livestreamed each production's opening night for those not wanting to attend in person.
David Kilpatrick, executive director of the Des Moines Playhouse, said lessons learned during the summer drive-in theaters, and the need of audiences to be entertained, inspired his staff to begin production of the two fall shows.
But it's been a struggle to get there, said Kilpatrick, who acknowledged the Playhouse doesn't face the same financial challenges as those faced by larger for-profit venues.
"Unlike the professional theaters, we don't pay but a very tiny handful of people, so we don't need to make a specific amount of money to pay our salaries and make the show cost-effective," he said. "We can keep our costs pretty minimal, so if our audience is smaller we're doing OK."
Even if only a fraction of the seats are filled, it allows an audience to gather to enjoy the experience together, Kilpatrick said.
Before COVID-19, the Playhouse had 63 paid employees and a $2.1 million budget. Today, its projected budget for the current year is about $800,000 with just 11 employees.
Of that budget, about $250,000 is in ticket sales.
"And that's if we convince enough people to come to the theater," Kilpatrick said. "So, you know, it's basically about 30% of what it used to be."
The Playhouse was forced to cancel all of its spring and summer programming. It received a $187,000 loan through the Payroll Protection Protection program, which allowed it to create the summer drive-in shows.
Early on in the pandemic, the entire Playhouse staff was furloughed. Staff members returned in late March when the PPP loan came in. During that time, all benefits continued to be paid, Kilpatrick said.
"Over the summer, because we were running shows but we didn't need the teachers, for example, or the teacher director, we couldn't use all the technical people we had, we furloughed them again, but we maintained their benefits for them," he said.
Plans are in the works for summer and fall productions in 2021, but nothing will be announced until definite schedules can be assured, Kilpatrick said.
"We don't want to offer something and then have to cancel it or pull it back, " he said.
Unlike the Playhouse, Hoyt Sherman Place and Des Moines Performing Arts have not resumed live performances, leaving both heavily reliant on donors — and shifting their focuses.
Robert Warren, executive director of Hoyt Sherman Place, said the theater has lost 80% of its revenue because of its inability to have live events.
He said that under current social distancing requirements, only 310 of the theater's 1,252 seats could be filled, and that's not enough to be profitable, both for the theater and for the performers it brings in. Often, those artists have a guarantee of $30,000 to $50,000, Warren said.
"That's not possible for new shows, but also all the ones we had on our books that didn't want to cancel and wanted to get new dates and move forward," Warren said. "How do you un-sell 500 tickets? If we did reopen, we'd have to uninvite more than half the audience, and that was a decision that our board and staff thought, when we can safely reopen at a larger capacity we will be ready to do so."
He said membership renewals have remained consistent during the pandemic, and the theater received a few small loans through the Small Business Administration, as well as some emergency funding through the Iowa Department of Cultural Affairs. Hoyt Sherman also received a PPP loan of $165,000.
As of July 1, a rolling furlough was implemented for the entire staff, he said.
"We decided we'd all like to share in any hardship rather than eliminating or laying off people," Warren said.
The staff is taking one day a week or a week off each month to "lessen the hit," he said.
"Right now, we're sort of planning on after the first of the year being able to start to have events again." But the board and staff decided "that through December it's just not really safe to gather with the spikes (in COVID-19) that are happening still," Warren said.
In the absence of live events, Hoyt Sherman staff shifted its focus to the mansion restoration and renovation project, which received $350,000 in state historic tax credits and a $100,000 donation from the Dahl Trust.
"We realized we had about half the money. We had the downtime. We could do the demolition work, and we're not doing it around big events in the theater, so we just decided to move forward as quickly as possible," Warren said.
That work, according to a news release, is scheduled for completion by the end of 2020.
For Des Moines Performing Arts, the uncertainty of when live performances will be able to resume has resulted in 300 part-time staff being laid off, and cuts to full-time staff, said Jeff Chelesvig, president and CEO.
Those cuts will leave the performing arts center with about 25 people, about half of what it was, with all those also taking pay cuts, he said.
The venue is now focusing on virtual programming, Chelesvig said.
All summer programming for young people was done virtually this year. Work is also being done to create virtual programs for the center's Applause Program, an education program for kindergarten through 12th grade students that is curriculum-based and happens during the school year. The program usually serves about 50,000 students in person, Chelesvig said.
Des Moines Performing Arts will also continue its involvement with the Iowa High School Musical Theater Awards program, some of which will be transitioned to virtual experiences, he said.
"We'll also be doing a lot of workshops for students and teachers in terms of things like directing and scene design, stage design, all the elements that go into creating a musical, and that's something we can do virtually, as well," Chelesvig said.
Then there are things being explored, such as using the space for weddings and other events, he said.
"The main thing is trying to make sure whatever we do is safe not only for the attendees but also our team members as well," Chelesvig said.
He said Des Moines Performing Arts is drawing on reserve funds and relying on donors to make ends meet. It also received Paycheck Protection funds, which ran out in July.
"But in the absence of any state or federal support, we're relying on reserves and donors, and cutting expenses as much as we can," he said.
Both Chelesvig and Warren said they are closely monitoring what's happening not only across the country but globally to see what is working and what isn't when theaters reopen.
"There have been some attempts to do some in-person performances in the U.K., which I think didn't work out as well as they had hoped, and nationally we're just trying to get a sense of how things are going," Chelesvig said.
It was recently announced that Broadway would remain dark until at least May 30, which is 444 days after all 41 theaters went dark as part of New York's effort to slow the spread of the coronavirus, the New York Times reported.
Des Moines Performing Arts has two holdover shows from its 2019-20 season, with both single-performance and season tickets being sold. There are seven performances for the 2021 season, with only season package tickets being sold.
"Those dates we continue to move," Chelesvig said. "We don't feel it's beneficial to anyone to announce dates until we are absolutely sure they are going to be firm.
"We are scheduling things, but it's a constantly moving target."
With uncertainty dominating Des Moines Performing Arts and Hoyt Sherman, the Playhouse launched its fall shows, taking precautions to keep its limited audiences safe.
Only 120 seats in the 412-seat theater will be sold. Two seats on either side of a group will be empty, with every other row remaining unfilled. The theater is being opened an hour early to keep people from gathering in the lobby. Concessions are being kept to a minimum, and intermissions have been eliminated. Masks will be required, and temperature checks will be available. In between performances, the theater will be fogged and sanitized, Kilpatrick said.
"All these practices all came out of our summer experience," he said. "And they worked so well over the summer that we said, 'That was a success, so let's keep with this process.' So we consider summer our experiment on how to do fall."
Facebook Notice for EU! You need to login to view and post FB Comments!