UpCraft Club challenges perceptions with success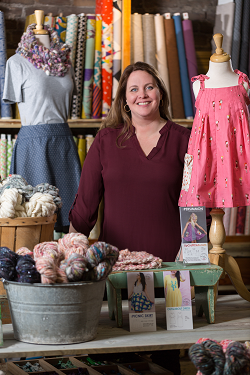 This year is shaping up to be a good one for Elizabeth Caven.
Caven, founder of UpCraft Club, an Iowa-based modern sewing association and curated pattern shop for people who use digital sewing patterns, recently learned that
she landed a spot in the 500 Startups Batch 16
. The venture capital seed fund and startup accelerator is considered one of the top five programs worldwide, according to the Greater Des Moines Partnership. The program started last month in San Francisco.
A client of the Square One DSM accelerator, Caven also was named
a national finalist
in the U.S. Small Business Administration's InnovateHER: Innovating for Women Business Challenge.
These recent honors come after a 2015 win at Iowa Women Lead Change's second annual
Invest in She event
, held in Cedar Rapids. At the competition, Caven was awarded $20,000 from a panel of six investors following her pitch.
Lift IOWA caught up with Caven, who is currently in San Francisco, to ask her a few questions about the inspiration behind her business, what challenges she faces and what's next for UpCraft Club.
What made you want to start your business?
As a digital sewing pattern designer, I saw firsthand some of the problems in the sewing market. Digital patterns have been increasing in popularity over the past few years, but stores didn't have a way to carry them. This means designers can't get the mass distribution for their patterns like they can if they print paper versions of their products. It also means customers can't find the digital designs they love easily because the modern patterns are spread all over the Web.
I started UpCraft Club to answer these issues. We offer one site (a marketplace) where customers can find the best patterns, and also make the digital designs available for shops to sell. It's a win for everyone involved: the sewist, the designer and the local fabric shops.
What were some of the biggest challenges you had to overcome to get here?
One of the biggest challenges we had in trying to grow quickly was overcoming the idea of investors and potential partners that this market is dying. Sewing as a worldwide industry is growing well and represents a $30 billion market. There hasn't been a lot of innovation within the sewing space, and so it's not a natural fit in the minds of many. I'd like to think we're changing their perceptions by showing how vibrant the sewing community is and how sewists today crave modern, digital tools.
What's next for your business?
We are currently at 500 Startups in San Francisco. We're working to grow and are excited about the progress we're making. This spring, we will be releasing a line of sewing patterns in collaboration with some independent designers.
What advice do you have for other female business owners or potential female business owners?
Go for it! If you have an idea for a business, put yourself out there at a pitch competition and learn as much as you can from the questions you hear. Surround yourself with people who will challenge you to think bigger.
CONNECTION POINTS