Urbandale hotel rises along the interstate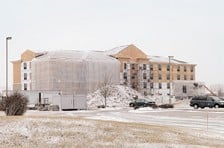 A company that has built and managed hotels in Ankeny is constructing a Holiday Inn Express Hotel & Suites in Urbandale.
ABC Construction LLC started construction in August 2010 on the 90-room Holiday Inn Express in the 8700 block of Plum Drive, just south of Interstate 35/80. Completion is set for May.
The Urbandale City Council approved a site plan for the $4 million project in February 2009. It is the second hotel for Plum Drive, standing next door to Microtel Inn & Suites.
ABC Construction also has built a Hampton Inn in Ankeny and a related company manages the Comfort Inn in that city. It owns an operates four hotels in Ankeny and one in Ames.
According to a report from the Urbandale Community Development Department, the four-story Holiday Inn Express will have a 1,500-square-foot meeting room in addition to an indoor pool, spa, exercise room and guest laundry.
The hotel sits on a three-acre site that was purchased in 2008 by ABC Investment Inc., whose principals include Arvind Patel and Dhanesh Patel. Arvind Patel also is listed as a principal of ABC Construction and its related company, ABC Hotel Inc.
The property is located in the Best Manor Business Center Planned Unit Development, an area of more than 200 acres where city officials and other business owners hope that the eventual extension of Plum Drive from roughly the new hotel west to 100th Street will spur additional development.
ABC Hotel received the deed to the property in July 2010 for $849,000 in a transfer from ABC Investment. ABC Investment paid $1.3 million for the property in August 2008, according to Polk County property records.
In August 2010, Arvind Patel, in his position as president of ABC Hotel, signed a $7.8 million construction mortgage for the hotel with Community State Bank of Ankeny.
Urbandale City Councilman Mike Carver has been an advocate of development in the Plum Drive area, and he noted that the Holiday Inn Express fits the bill.
"That's the type of development we certainly appreciate and want," Carver said.
"As time goes on and we generate more office buildings and retail in that area, I think it's going to be a benefit to the entire community," he said.
Carver said Plum Drive should be completed by the end of the year.