Urbandale site work gets under way; council to vote next week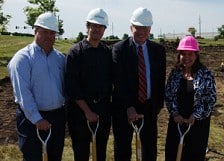 Stacey's Inc. has announced plans to construct a 17,000-square-foot retail building in Urbandale.

The city's Planning and Zoning Commission last night recommended that the City Council approve a site plan for the parcel located at intersection of Plum Drive and Northwest Urbandale Drive.

"We are going to proceed at builder's risk," said Stacey Fox, owner of Stacey's Inc., adding that in order to hit her target opening date of Jan. 1, she is taking a "calculated risk" of beginning earthwork on the site prior to receiving the council's final approval.

"We really have a very short window of time," she said, adding that her real estate agent, Pat Schneider of Ferguson Commercial Real Estate Services, has asked the mayor for preliminary approval to begin construction.

Fox said she is finalizing details to secure financing, purchase the 1.6-acre parcel and obtain city approval this week, "rolling it all into one big package," with hopes of having a foundation poured before winter.

The council is scheduled to vote on Aug. 25.

Ball Construction Service LLC has been selected to construct the single-story building, designed by Invision Architecture, with an estimated construction cost of $2 million, Fox said. The project is being financed by Freedom Financial Bank, and Fox is working to secure a loan through the U.S. Small Business Administration's 504 loan program.

Fox, who owns Stacey's Bra & Lingerie Shop and Mastectomy Center, Stacey's Prom and Stacey's Bridal and Formalwear – the three businesses that will be housed in the proposed building – had first considered relocating to the former Quality Ford site in West Des Moines.

Last March, she was negotiating an agreement to purchase the former dealership building at 1271 Eighth St. before "a lot of occupancy issues" arose and another buyer stepped in, she said.

"We kind of took that as a sign that we needed to look somewhere else," Fox said. Though the deal fell through, forcing Stacey's to streamline the entire process, it ended up being the right move economically, she said.

"When you build from scratch, there is nothing hidden," she said of the proposed owner-occupied building, to which Stacey's will relocate from an approximately 5,500-square-foot leased space in Governor's Square in West Des Moines. "Everything happens for a reason," she said.