WesleyLife Meals on Wheels launches $8.25M fundraising campaign
New Drake neighborhood facility will enable program to triple capacity to 3,000 meals daily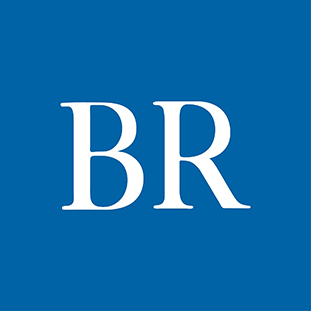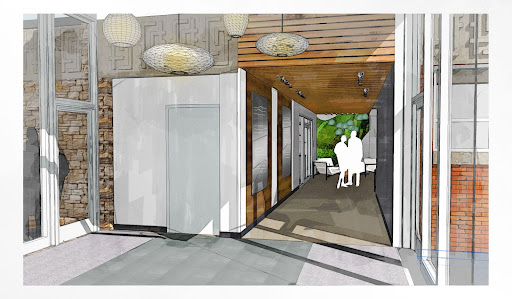 Photo above: A rendering shows what the new headquarters for Meals on Wheels, which is operated by WesleyLife, will look like. Submitted rendering Photo below: Richard Sickels volunteers with Meals on Wheels for WesleyLife in Des Moines, delivering meals to food-insecure elderly Iowans three days a week. Many times, he's the only person his clients talk with on a regular basis. File photo by Emily Kestel
The need for addressing food insecurity among older Central Iowans has grown exponentially within the past couple of years. Greater Des Moines leaders are responding with a plan that will multiply the impact of Meals on Wheels, a program that has provided hot meals and vital social contact for older residents for the past 16 years.

Meals on Wheels, which is operated by nonprofit senior services provider WesleyLife Inc., has launched an $8.25 million capital campaign that will fund a new headquarters for the initiative while the nonprofit's headquarters will remain in Johnston.

The centerpiece of the renovated facility, located at 3206 University Ave. on the Drake University campus, will be a state-of-the-art commercial kitchen that will enable volunteers to prepare and deliver 3,000 nutritious, hot meals a day for delivery to seniors and veterans across Greater Des Moines.

The capital campaign is being chaired by Polk County Supervisor Angela Connolly, retired City Councilwoman Christine Hensley and State Director of AARP Iowa Brad Anderson.

Suzie Glazer Burt is a lead donor in the capital campaign, which is named "So Much More than Meals." Glazer Burt contributed a $1,050,000 gift that is being used to acquire the building, which formerly housed Drake University's education department, from the university. Including that donation, the campaign has already secured more than $5.6 million in commitments toward its $8.25 million goal.

"About two years ago, it became apparent that the need was going up as the pandemic started, and it continued to go up and we were at capacity," said Rob Kretzinger, president and CEO of WesleyLife. "If you tour this building, you'll see the challenge that the kitchen represents — it's way past time that we replace this building."

Meals on Wheels currently operates out of a building at 944 18th St. in the Sherman Hill neighborhood of Des Moines, with an aging commercial kitchen in which volunteers each weekday turn out 1,000 meals in less-than-ideal conditions. For instance, all the pots and pans must be washed by hand after the meals are prepared because "there's only one dishwasher, and her name is Martha," as WesleyLife's staff likes to say.

In Polk County, officials estimate that some 9,000 seniors or veterans are food-insecure and may be eligible for the Meals on Wheels program. That figure was measured before the pandemic began, said Angela Connolly, who was among the first people that Kretzinger approached about launching a capital campaign.

"I knew that this was the right decision because of the work that we do with our community centers and senior centers," Connolly said. "So I know how important it is that they get a nutritious meal and that we have eyes on them."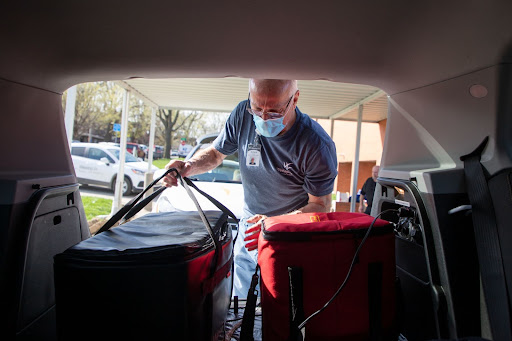 The typical Meals on Wheels recipient is a woman age 75 or older who lives alone and has multiple health challenges. Half of older adults living alone lack the financial resources to pay for basic needs, including nutrition. Lack of transportation and limited physical ability also hinder access to food.
The one-on-one personal contact that the volunteers have with those served — often coming into their house or unit to open up the items for them — is a vital part of the program and an important daily safety check, Hensley said. The project also has strong neighborhood support, she said.
"I think the good thing is there's going to be ample parking there, and [Drake] works closely with the neighborhood," Hensley said. "And so you got major buy-in from the neighborhood, which for some projects like this, that's not always the case. … It's going to tie in to the improvements that are being made along University [Avenue] that Drake has been instrumental and very involved in."
The majority of the funds raised — $6 million — are being allocated to construction costs for the renovation of the building. That figure includes $1,125,000 for commercial kitchen equipment that will have features not currently available:
Large, roll-in ovens for increased production.

Blast chillers to produce quality chilled and frozen products.

Grill space for nutritious food preparation.

Expanded freezer, refrigeration, prep and storage space.

Dishwasher and dish room.

In addition to expanding Meals on Wheels' capacity from its current volume of 1,000 meals a day, the new facility will incorporate a 3,000-square-foot indoor hydroponic garden in its basement that will enable volunteers to raise 10,000 pounds of fresh produce year-round to include in the meals.

The new headquarters will also have more than 1,500 square feet of community meeting space on the second floor for building intergenerational connections through well-being events, TED-style talks and lectures, and experiential arts programming.

Glazer Burt made her gift to the Meals on Wheels campaign through Drake's ongoing capital campaign, The Ones, and in turn Drake donated the building to WesleyLife.

Addressing food insecurity is a big passion for Glazer Burt, said Sophia Ahmad, WesleyLife's vice president of philanthropy. Also, one of the pillars of Drake's campaign is to be "a university for all." As part of that focus, Drake will work with WesleyLife to provide much of the intergenerational programming at the new facility.

"So we love that we have this classic Des Moines 'secret sauce' of collaboration, with WesleyLife and Drake University coming together with a local philanthropist to really elevate a solution to address an important community need and to serve thousands and thousands of older Iowans," Ahmad said.

Anderson said that from discussions with his counterparts around the country, he doesn't know of another Meals on Wheels program that has components as innovative as an in-house  hydroponic vegetable garden and an integrated multigenerational education component.

"It's just a great project, but it is critically important that other people model for their communities," he said.

With food insecurity an increasingly common problem across Central Iowa, the project provides opportunities for Meals on Wheels to continue to meet needs in new ways, said Shannon Draayer, director of health and well-being for WesleyLife.

"So yes, that need is there, and we've got to meet that from both a production standpoint and from a funding standpoint," Draayer said.

"We anticipate being able to offer more meals within Polk County, ideally at some of the congregate sites as well, so that we're producing more meals for those in need in the community and then potentially beyond. … If you live out in the country, you're not able to get a meal. So we're hoping that we're able to meet the needs of those who may not have a source by potentially delivering a five-pack or 10-pack" of frozen meals.

WesleyLife expects to complete the capital campaign within the next several months and to hold a groundbreaking event for the beginning of construction by the end of the year. The renovation is expected to be completed in late 2023.

For more information about the campaign and to make a donation, visit the capital campaign website.
Editor's note: This story has been updated to clarify that Meals on Wheels, which is operated by nonprofit senior services provider WesleyLife Inc., will use the capital campaign to fund a new headquarters for the initiative while the nonprofit's headquarters will remain in Johnston and to correct the spelling of Susan Glazer Burt's name.
Facebook Notice for EU! You need to login to view and post FB Comments!