West Bank plans to flex some muscle
After paying off a $36 million federal debt, the West Des Moines lender is positioned for growth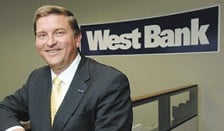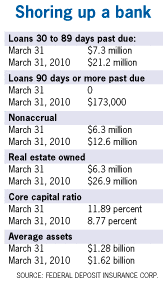 Dave Nelson's eyes are on the Greater Des Moines banking community. He's looking for its customers.
Nelson is the president and CEO of West Bancorporation Inc. in West Des Moines. It's the parent company of West Bank, where he also is chairman and CEO, with an office on the ground floor.
He is eager, these days, to talk about the success of an operation that had run afoul of banking regulators when he returned home in April 2010 to Greater Des Moines from Rochester, Minn., where he had led Wells Fargo & Co.'s southeast Minnesota banking division.
Those problems, created by an abundance of non-performing loans, many of them granted during the development boom that went bust in 2008, have been erased. West Bancorporation reported first-quarter net income of $4.53 million, up 36 percent from first-quarter 2010 earnings of $3.34 million, and a decrease in nonperforming assets to 1.97 percent of total assets from 3.34 percent a year prior.
Also gone is a debt to the federal government.
West Bancorporation announced June 29 that it had redeemed $36 million in preferred stock purchased by the U.S. Treasury Department in December 2008 as part of the government's efforts to restore confidence in the banking system. Since that time, West Bancorporation has sent $4.49 million in dividend payments to the government.
It was the first Iowa bank to exit the program, and was followed a week later by MidWest One Financial Group Inc. in Iowa City.
What the money meant to West Bancorporation was the ability to maintain capital levels while erasing millions of dollars in non-performing loans.
"Never in the two-and-one-half years that we had TARP did we ever need it to be considered well capitalized," Nelson said. "It was a precautionary step.
"We are very much in a position of strength. As we improved our credit quality over the last year, year and a half, our problem loans are less than half of what they were a year ago, we returned to a decent level of profitability and our capital ratios are so strong that they are virtually off the charts. Our capital ratios continue to improve, primarily because of our earnings, and the reason our earnings are improving is because our credit quality is improving. … You make more money by losing less."
Nelson said the government's Troubled Asset Relief Program was necessary to maintain trust in the banking system.
"If people lose confidence in the system, then the game is over," he said.
Nelson is confident that his banking operation has emerged from the financial crisis in a position to grow, possibly at the expense of its competitors.
"Consolidation in the industry is going to pick up at an accelerated pace," he said. "The big banks will get bigger, and there will be fewer community banks. For us that plays well, because there will be fewer of us.
"We are in a position of strength, where several other institutions are not. That in and of itself is reason to do business with us."
With West Bank's focus primarily on business customers, it has created a unit to deal specifically with customers who are going through difficult times. The idea is to save the customer and, ultimately the bank, from financial pain.
Nelson said the bank will grow.
"Absent economic expansion, and we grow, doesn't that mean you have to take business from someplace else? The answer is 'yes, that is what that means,'" he said.