What they're checking out: Week of Sept. 15
As an ongoing feature, staff members at the Des Moines Public Library will recommend a business-related book to add to your reading list. Find this and more books like it at any of the Des Moines Public Library's six locations and online at dmpl.org. And find information on how to get a FREE library card and all its benefits at dmpl.org/get-carded.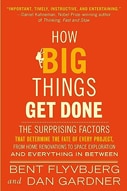 Des Moines Public Library business book pick: "How Big Things Get Done," by Bent Flyvbjerg and Dan Gardner
Why you should read it: Turning big visions into realities is one of the most difficult skills, but also one of the most rewarding sensations when it happens. Understanding what distinguishes those triumphs from failures is the life's work of Oxford professor Bent Flyvbjerg. In his latest book, he works to identify the errors and decisions that led big projects to failure. This book serves as a lesson plan for projects big and small, and managers of all stripes.