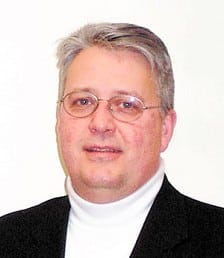 As president of the Iowa Federation of Labor, I've witnessed firsthand the challenges that working families are confronting as a result of outsourcing. These challenges are all the more apparent amid a national economic downturn. With those experiences in mind, I am watching closely as the U.S. Department of Defense decides whether it will follow the disturbing trend of moving jobs overseas or invest domestically in our economy and the American work force. I think the choice is very clear.
The U.S. Air Force's aging fleet of aerial refueling supertankers is in need of being replaced, and the Defense Department is currently reviewing bids from two aviation companies to manufacture the new fleet. The well-known, American-based aviation manufacturer The Boeing Co. and the French-based Airbus are competing to receive the contract.
These are the only two companies to bid on this project. Today, there are two options available to Defense Secretary Robert Gates: tens of thousands of jobs for Americans or tens of thousands of jobs for Europeans.
The manufacturing sector of the Iowa economy has been under assault during this recession as much as any other sector. If Boeing were to receive this contract, it would be a tremendous boost to this industry and the workers who have suffered cutbacks and unemployment as a result. Boeing currently supports more than 50 suppliers in Iowa, and if it were awarded this contract, it would have the potential to create approximately 800 new jobs across the state and 50,000 jobs throughout the country. These partnerships would continue to thrive and generate more than $40 million in revenue for Iowa's economy.
Advanced manufacturing jobs are vital to the economic growth of our region. These jobs are a priority among economic development professionals because of their demand for high skills and the benefits of high wages in return. Iowa has tremendous potential for growth in this area, and we have a work force that can meet the expectations of these jobs.
It confounds me to think our government would choose a French company over an American company and send so many jobs overseas, outsource vital pieces of our national security apparatus and disregard the more cost-effective use of taxpayer dollars. Additionally, Boeing's aircraft is more efficient to operate than Airbus' plane, and it possesses more operational flexibility.
I will be deeply disappointed if the Defense Department selects a European company to build these aircraft. I remain hopeful that it will make the best choice for Iowa's economic interest and for America's national security priorities.
Ken Sagar is the president of the Iowa Federation of Labor.