Winefest celebrating 10 years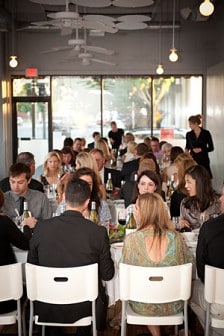 Toasting to 10 years, Winefest Des Moines uncorked new events and activities throughout the week for Greater Des Moines wine lovers to enjoy.
"It went from three to eight days," said Nikki Syverson, Winefest's event director. "There are more education opportunities and more opportunities to highlight local industries — wine, beer, retail and restaurants."
The annual event kicked off last week with Saturday Sessions at Meredith Corp., where participants took part in various classes to learn new cooking techniques and entertaining tips.
A new event, the Iowa Lawn Party at Jasper Winery, took place last Sunday, serving up a casual farmers market style complete with local vendors, she said.
The expanded schedule also offered activities for participants to expand the palate. Winefest's local retail partners offered classes throughout the week on various topics to teach attendees more about the wines they enjoy. Syverson said classes were offered on champagne, aging white wine and cheese pairings. The educational aspect of the event is what makes Winefest unique, she said.
"The more you learn about wine, the more you like it," she said. "And there is so much to learn."
Winefest will conclude this weekend with its signature events, Friday night's Sips & the City and Saturday night's Grand Tasting, both being held in Nollen Plaza.
"We're putting the 'grand" back into the Grand Tasting," Syverson said. "Sips & The City and the Grand Tasting will have very different feels this year. It will be much more high end."
Syverson began her post in October, having worked as an event planner for the Des Moines Symphony and operated her own event-planning business, Down to Details, before that. She said her passion for wine makes the job a perfect fit.
In years past, the two-day event has drawn about 5,000 people. However, this year with its increase in activity, she hopes that number will inch up to around 8,000.
Syverson said she's open to continuing with the expanded eight-day format next year if things go smoothly this time around.
"We have to have events like this to make the city exciting," she said. "Things like Winefest make this the great city it is and what Des Moines is all about."