Women of Influence 2023 Honoree: Laura Sweet
Vice president and chief operating officer, Des Moines Performing Arts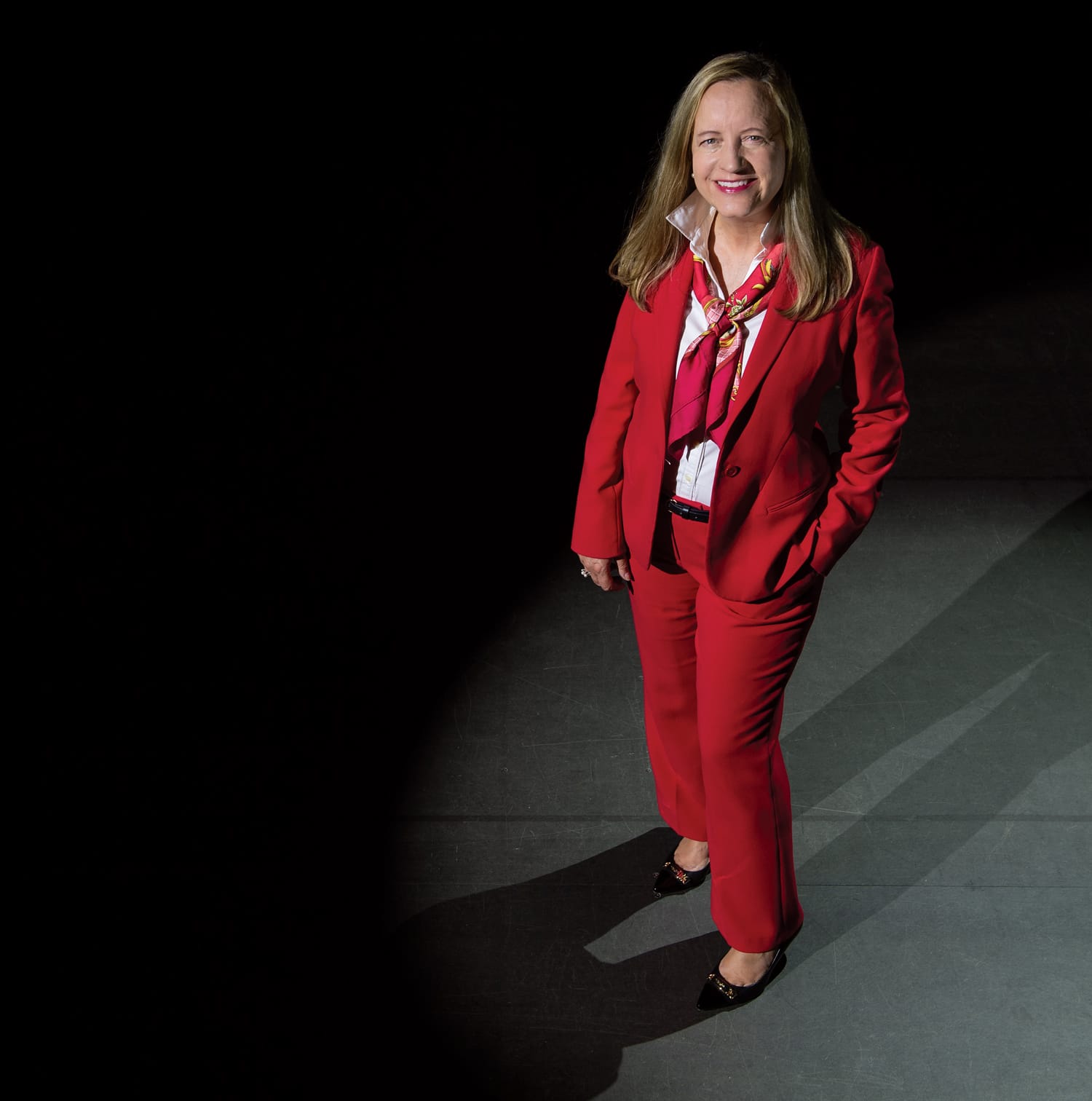 Click here to watch Laura's video
Education: Bachelor of Arts in journalism from the University of Kansas, Master of Arts in journalism/business from the University of Nebraska 
Hometown: Lincoln, NE
Family: Husband Mike, daughters Mary Clare (son-in-law Alex, granddaughters Tallulah, Marigold Joy and Meadow), Chloe (son-in-law James, grandsons Peter and JJ, granddaughter Polly Jane) and Cecily (son-in-law Rob, grandson Hugh). My parents are Linda Hillegass and James McKee.
Hobbies: Hiking in Colorado, reading books (virtually all fiction), time with family (losing at Monopoly to grandchildren Peter and Tallulah) and time outside with nature
Words to live by: Lead with kindness. A quote that resonates with me from our most recent book club book: "As we age, and we realize life doesn't always turn out the way we wish it, that randomness and luck are hidden handmaidens of our own fates, our intentional small kindnesses become more defining."
Three notable accomplishments:
Oversaw COVID response efforts for DMPA and our industry – was chair of the International Association of Venue Managers' Performing Arts Sector and was tasked with an oversight role for Association of Performing Arts Professionals as well.
Oversaw the renovation of Cowles Commons, including the Lauridsen Fountain and Swirl, the LED light sculpture commissioned by San Francisco Artist Jim Campbell.
Served as president of Nexus, the region's premier women's leadership organization.
How have you helped improve organizations you've been a part of?
Both in Lincoln and here in Des Moines I've focused personal time on serving/volunteering with organizations who have missions that touch people dealing with tragedy – from domestic violence issues (Children and Families of Iowa, Friendship Home and the Voices of Hope) to recovery from home fires or natural disasters (with the American Red Cross).
I lead mentoring efforts for the Association of Performing Arts Professionals – welcoming new colleagues to the annual conference through orientation program, fostering connections with artists and managers throughout the year.
For the last two years I've served as the chair for selection of the Central Iowa Red Cross Heroes of the Heartland program – which recognizes ordinary people whose actions demonstrate the potential that is in all of us. Heroes are selected based on the degree to which their acts of heroism and kindness uphold the values and vision of the American Red Cross, leaving a lasting and positive impact on the residents of our community.
What motivates you?
I am motivated by the emerging artists and professionals in our industry. I am grateful for the opportunity to make connections with artists and find opportunities to highlight their work. It delights me to advocate for Des Moines as a cultural bright spot. I appreciate that my role at DMPA allows me to enrich our community with a diverse mix of performing arts. My grandchildren inspire me to make our communities stronger – focusing on doing our part to ensure the world we leave them is vibrant.
Is there a memory or experience from your formative years that continues to influence your approach to life?
My parents, grandparents and teachers played a critical role in helping me see my potential. As advocates and cheerleaders, they inspired me to work hard and say "yes" to opportunities that were presented. I remember starting kindergarten at 4 as an early reader. I knew then that reading was important, and I was proud to be good at something. Wanting to excel continues to be a motivator in other areas of my life.
What piece of advice would you give to others who hope to make a difference in their communities?
The hardest part about figuring out how to make a positive impact in your community is identifying the area or organization of which you want to focus your efforts. Many of us have several areas of interest for which we feel a strong connection. Focus and commit to those organizations (with your time, talent and other resources) that align the strongest with your personal priorities.
Tell us about a time you failed (or at least you did from your own perception).
As a young professional my inclination was to constantly say "yes" to opportunities. At one point, in addition to my full-time job I was also in leadership positions with seven other organizations. I didn't serve any of those organizations as fully as I should have. There are times when saying "no" is the right answer — failing to recognize that time is limited is a struggle. I know I missed out on activities with family and friends, and that those moments can never be relived.
What is a favorite book, show, movie, podcast, etc. that you'd encourage others to consume?
As the daughter of a librarian as well as bookstore owners/authors, and the proud granddaughter of the Cliff and Cathy who started CliffsNotes, picking a favorite book is impossible — though favorite authors include Willa Cather, Barbara Kingsolver and Louise Erdich. As a career arts professional, picking shows is also pretty tricky – though a few of my top live arts experiences include the Broadway musical "Waitress," Jake Shimabukuro and Jon Batiste. I'm super looking forward to our next Prairie Meadows Live at the Temple Music Series featuring our headliner, Suzanne Vega. (Season tickets on sale now!)
How do you try to find balance and joy in the many activities you take part in?
It is important to make deliberate choices with how we spend time. I thrive by being around people and find joy in sharing time with my family, work family and friends. My career success is a natural extension of my interest and passion for making connections with people.
What is one of your guilty pleasures?
I could rewatch episodes of "Ted Lasso" every week. The show is so authentically kind and serves as a reminder for focusing on what is truly most important.
What's something many people don't know about you?
My grandparents (Cliff and Cathy Hillegass) started CliffsNotes in the family basement in Lincoln, Neb., in the 1950s. I'm also on the ready to dust off my flute for weddings or other celebrations.
Anything else you want to add about yourself?
For additional details about the Live at the Temple Concert series, check out dmpa.org.
What do you consider the greatest barrier to gender equity?
It is critical that women support one another. We need to see each other as allies first – not competition. Equity demands that we create opportunities for each other.
Who is an empowering woman that you look up to?
Ambassador Mary Kramer, Dr. Andy McGuire, Amanda Gorman and Dolly Parton.
What will it take for women to achieve gender parity in leadership positions?
While men play a role, it's vital to have women creating opportunities for other women. It is truly our best path toward parity.
What support would be most helpful for business leaders to provide for their women and nonbinary employees?
Business leaders need to commit to places at the table for people who have different backgrounds, values and perspectives than their own. We are strongest when we are challenged to see things from different points of view. Compromise may be impossible, though connection is a starting place.
Fill in the blank: If gender equity were achieved, the world would look like ____________.
Equal pay for equal work.