Women of Influence 2023 Honoree: Terri Vaughan
Professional director of the Emmett J. Vaughan Institute of Risk Management and Insurance, University of Iowa Tippie College of Business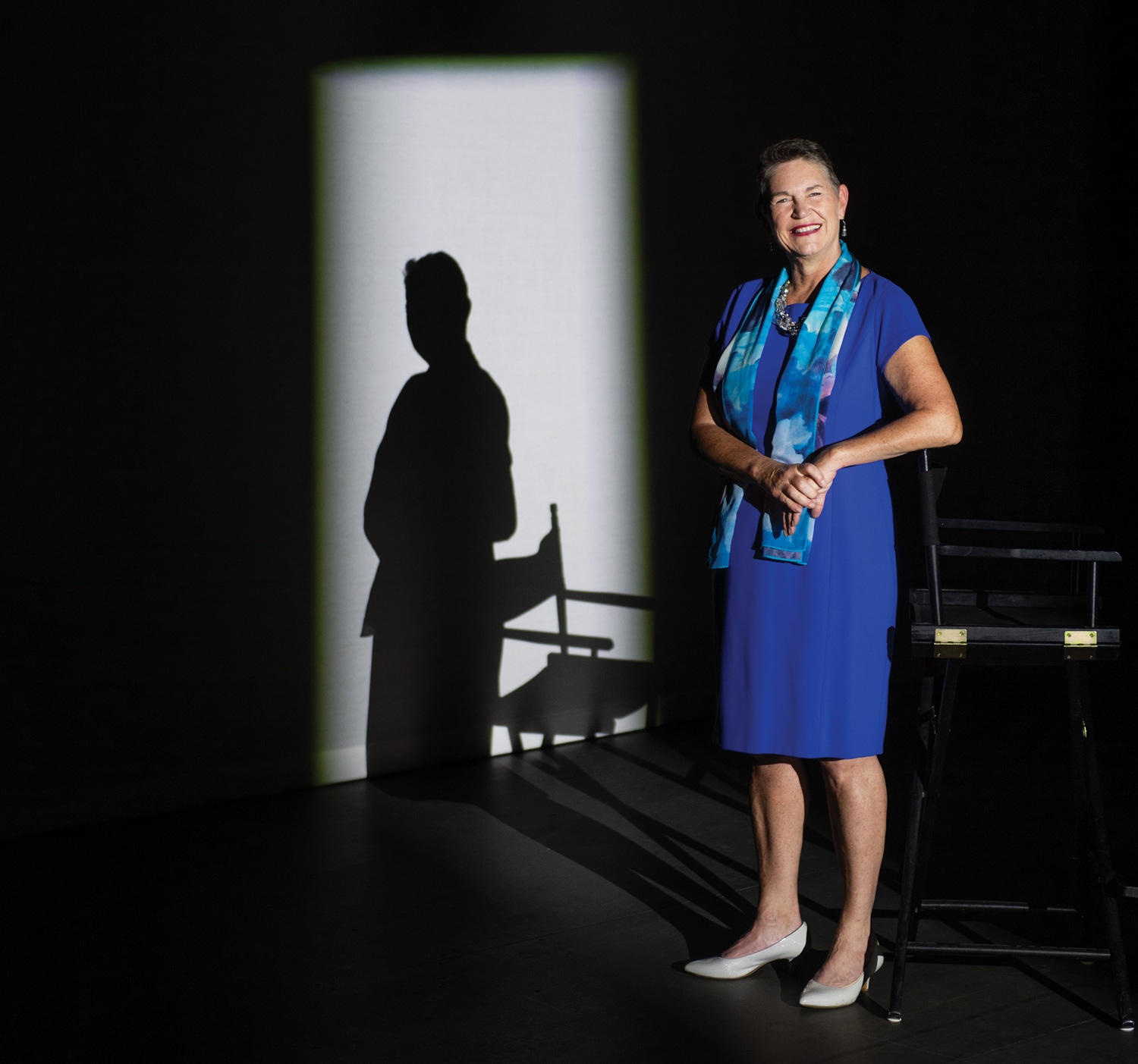 Click here to watch Terri's video
Education: BSBA in economics and risk management and insurance from the University of Iowa; Ph.D. in applied economics/risk management and insurance from the University of Pennsylvania
Hometown: Iowa City
Family: Husband Bob Carber; children Kevin and Tommy Vaughan-Carber; stepchildren Cathy Padilla, Todd and Precious Carber, Chad and Trish Carber, Angie and Sebastian Abramowicz, Kristin and Jody Hoffmann
Hobbies: Boating/swimming/anything on the water, Pilates, active travel
Words to live by: Variety is the spice of life.
Three notable accomplishments:
I have two boys who have graduated from high school and seem to have turned into wonderful young men (in spite of their parents).
Professionally, as president of the National Association of Insurance Commissioners, I led the effort to develop and implement an interstate compact to streamline the regulatory approval of life insurance products. It was considered revolutionary at the time, and there was a lot of pushback, but we got it done.
As CEO of the National Association of Insurance Commissioners, I led the organization through the depths of the financial crisis, coordinating with other financial regulators, conducting risk assessments and developing contingency plans.
How have you helped improve organizations you've been a part of?
Getting the right people in place. That's the most important thing you can do as a leader. When I served as dean of Drake's College of Business and Public Administration, I knew the most important thing I could do was get a unifying person to be associate dean, and it had to be professor Steve Scullen, an incredible scholar and man. He was the only person that the entire faculty supported. Steve resisted, but I kept working on him until he agreed to do it. One of the best moves I ever made. When I was insurance commissioner, I was smart enough to ask Susan Voss to become deputy commissioner. Another great move.
I joined the University of Iowa's Emmett Vaughan Institute because I knew it needed deeper connections with industry. I thought I could help with that, while making the case for hiring someone full time who has industry experience. I am thrilled that they are now searching for a full-time executive director of the institute who can provide the strategic leadership and deepen the connections between the scholarly faculty and the "real world" of business. I have a personal affection for the institute, since it is named after my dad, and I am so excited about the future!
As a director on a variety of boards, both nonprofit and for-profit, I work with other directors to make sure we have the right leadership in place, both on the board and in the executive ranks. Again, I believe getting the right talent in the right place is critical to long-term success.
What motivates you?
Curiosity and a passion to learn new things.
Is there a memory or experience from your formative years that continues to influence your approach to life?
My father was constantly challenging us to think and to question things. I remember driving in the car with Dad, sitting in the front seat next to him when I was very young, maybe 5. (I'm sure I didn't have a seatbelt on, either. Remember those days?) He was quizzing me about how I could know the trees really existed, and he would rebut everything I came up with. I didn't know it at the time, but we were discussing some deep philosophical/metaphysical concepts. Just one example, but I have many. As I said, I was raised to be open to debate and integrating new ideas, which is a good thing in this divided world we live in.
What piece of advice would you give to others who hope to make a difference in their communities?
Stay focused on the end goal. Throughout the process, seek advice and allies. Be open to criticism. But the key is to stay focused on the end goal.
Tell us about a time you failed (or at least you did from your own perception).
There are so many. I tend not to look back on them as failures, but rather learning experiences. I went into a meeting in D.C. one time, and I thought it was going to be with a couple of staff people to discuss some specific topics. It turned out to be with the principals of the organization, and the discussion headed in a different direction. I wasn't as prepared as I should have been. I'd love to live that one over.
What is a favorite book, show, movie, podcast, etc. that you'd encourage others to consume?
I've recently started listening to Noiser's podcasts. They have some great material for people interested in history. I just finished the "Rise and Fall of Hitler," which I enjoyed. I'm also going back to some literary classics. I recently reread "1984" and "Catch-22."
How do you try to find balance and joy in the many activities you take part in?
Finding balance is a constant struggle. One thing that keeps me sane is our cabin in northern Minnesota. I try to spend most of the summer up there. My mother and sister have cabins there, too, and we have a steady stream of family and friends all summer. Beyond that, I am fortunate that I enjoy most of what I am involved in. I am addicted to the feeling you get when you accomplish something, and my various activities satisfy that craving.
What is one of your guilty pleasures?
Haagen Dazs Vanilla Swiss Almond ice cream.
What's something many people don't know about you?
I'm an introvert.
What do you consider the greatest barrier to gender equity?
The informal networks that don't include women.
Who is an empowering woman that you look up to?
My mother. She is one strong, determined woman (which she had to be to take on my dad). An example: She had a stroke in March 2020 on a Sunday, was released from the hospital on Thursday, and was back on the treadmill that afternoon.
Mom was primarily a homemaker, raising seven children while my father traveled a lot. When I was in high school, she purchased a small cookbook publishing company and ran that for years. It was her company, she bought it with her own money doing part-time jobs, and she kept my dad out of it, eschewing any advice or offers of help. She eventually sold it. Now at almost 89, she has a lot of friends and continues to stay active, both physically and mentally.
What will it take for women to achieve gender parity in leadership positions?
I think we are making progress here. There is considerable pressure on companies to have more diversity in their boards and executive ranks. That pressure is creating more focus on developing diverse talent for the future. So I think we are on the right track.
What support would be most helpful for business leaders to provide for their women and nonbinary employees?
Focused career development. Identify their opportunities for improvement and give them experiences and other support so they can grow into strong leaders.
Fill in the blank: If gender equity were achieved, the world would look like ____________.
We are drawing on the best in all people.