A Closer Look: Kelly Baum
John and Mary Pappajohn director, Des Moines Art Center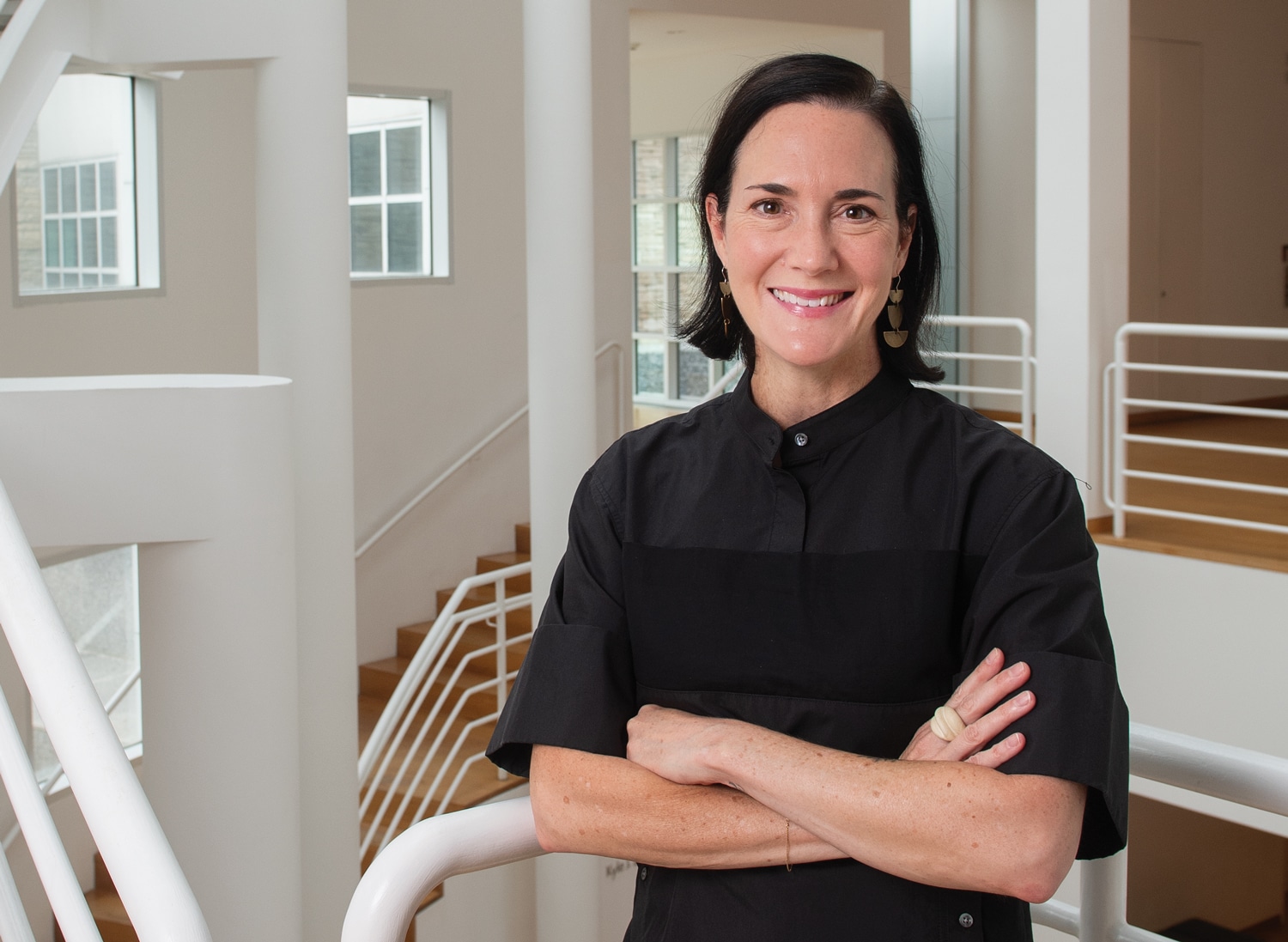 For Kelly Baum, even as a curator at the prestigious Metropolitan Museum of Art in New York, the Des Moines Art Center's reputation stood out.
"The Art Center was on my radar," Baum said. "It's one of the best museums in the country, housed in three incredible buildings."
Now Baum is the primary caretaker of the Art Center's 75-year legacy. The board hired her as director to succeed Jeff Fleming, who'd held that role for 25 years. Most visibly, Fleming oversaw the conception, construction and 2009 opening of the Pappajohn Sculpture Park in downtown Des Moines, which the Art Center manages in collaboration with the city's Parks and Recreation Department.
Baum moved from New York and started work in May. She curated contemporary art at four institutions, in the Northeast and in Texas, for 23 years before accepting the role in Des Moines.
Baum said she is definitely a workaholic.
"I consider myself the primary caretaker of the Art Center. My phone is never off. I only silence it when I'm in a movie theater. I'll do the same when I finally get to the opera. So I'm this institution's primary caretaker, I'm on call 24/7. I think that's natural. That's right for the director," Baum said.
She also considers herself the caretaker for the center's staff, its visitors, its stakeholders and its collection.
"It's an enormous part of my life. But I do think it's very important – and we know this now better than ever – that we have to take care of ourselves as people, as people with hearts and bodies. I really enjoy spending time with my family, I enjoy walking my dog, I enjoy exercising and hiking. I am enjoying discovering all the vintage and antique shops and festivals in the city. I really like to be out and about on the weekends, especially when I have some free time," Baum said.
She met with the Business Record in her office on July 18 to talk about the nature of her job and her vision for the Art Center's future.
This Q&A has been lightly edited and condensed for clarity.
What is a typical day like for you right now?
My days are spent in meetings, really. These are regular meetings, weekly meetings, recurring meetings, but I'm also still meeting with individual trustees of the Art Center, community leaders, directors of arts organizations. So quite a bit of meetings. I'm really still on the listening tour. And included in the meetings are local elected officials, director of Parks and Rec. But I also spend quite a bit of time writing. I just finished the introduction to the Art Center's next newsletter. I just wrote a preface to an exhibition catalog.
You've worked in the Northeast and in Texas. What was attractive to you about this job here in Des Moines?
It was really the Art Center, first and foremost. I had known of the Art Center for many, many years. I actually wrote for one of the Art Center's exhibition catalogs in 2007. I knew many of the curators who have worked here in the past. I borrowed from the Art Center's collection for exhibitions in New York.
Do you have a favorite exhibition or a favorite artwork here in Des Moines?
I do. There are a couple of works of art in the collection that I love. The Yayoi Kusama, Eva Hesse, Louise Bourgeois, Ellsworth Kelly … Wangechi Mutu, Ebony Patterson, the collection is stellar, since the founding of the Art Center. Every director, really beginning with Jim Demetrion forward, every director and curator has made brilliant, strategic purchases of works of art. So we don't acquire a lot of art every year. But we do acquire truly excellent examples of works by artists.
You're just the second director the Art Center has had in the 21st century. What has it been like to get up to speed at a place that has had a lot of continuity?
The continuity has helped me in the sense that there's a lot of expertise and dedication on the staff. The same goes for the board; the board has been incredibly supportive. I meet regularly with several board members, including our board president, Darren Jirsa. So I think the overall continuity of the Art Center has certainly helped me. But there's also, I sense among the staff, an excitement about change. A willingness to engage with someone new, to think about new strategic goals and priorities. So really, I feel like I have the best of both worlds here: folks who are dedicated to the Art Center and have been dedicated to it for a long time, but who are also excited about moving in potentially new directions.
Most of your career has been spent as a curator, correct? In what ways is the director job different?
As a curator, the bulk of my responsibilities involved purchasing works of art for the collection, shepherding gifts of works of art into the collection, organizing exhibitions, writing catalogs, researching works of art, donor cultivation, developing relationships with collectors, artists, galleries – that was a very important part of my job as a curator. I was trained as an art historian. As a curator, my job is to really write new stories about art and the history of art. As a director here, I'll continue to do that work. So I collaborate very closely with our curators on our collection strategy. We're identifying works of art to purchase where I'm helping them bring exhibitions to fruition. We're brainstorming ideas for the galleries. So I'm still very involved in the programmatic aspects of the Art Center. I'll do some curating of my own, but just intermittently. As director, I'm essentially the CEO of the Art Center. And so responsibility, accountability, it begins and ends with me. That includes responsibility and accountability for finance, for operations, for security, for human resources, for facilities. My role really touches on every aspect of the Art Center's mission and identity. Which I love, actually, and I'm really excited about that part of the job, and starting to work new muscles, new professional muscles.
(Reporter) I brought my daughter here nonstop as a newborn. … I saw art more intensely than I've ever experienced in my life.
The museum can be so many different things to different people. And you can come here needing and wanting different things and get it.
What have you learned about Iowa since moving here? I imagine your commute is quite a bit different than in New York. Is there anything that has really surprised you?
I don't know if they have surprised me, but I've been happy to learn [several things]. The first is the depth of this community's commitment to the arts. Not just visual arts, but arts, performing arts, music, opera, symphony. I love that Des Moines is an arts-rich city. I would include in that the Public Arts Foundation. So art is embedded in the landscape, the physical landscape and social landscape of Des Moines. That makes me very happy.
I've learned and come to understand the centrality of service and philanthropy in Des Moines. Service and philanthropy really define this city. It seems to me that in Des Moines, if you have $1, you give $1. If you have $100, you give $100. If you have some time, you give your time. I love that almost everyone I've met so far in the city is really committed to making the city and the people who live in the city better in some capacity. That extends to members of our board. It extends to our community partners. It extends to our staff, many of whom volunteer outside of their time at the Art Center. That spirit of service and philanthropy is just so heartwarming and so exciting.
I've also become an enormous fan of the city's Parks and Rec Department. I admire their director, Ben Page, very much. What he and his team do is extraordinary.
What is your vision for the Art Center's next few years?
We are wrapping up our current strategic plan. And we'll be launching a new one in 2024. And I'm excited to get started on that work with our staff. There are a couple of objectives, initiatives, aspirations that I've been pondering. The first is really around programming. I want to reinforce the identity of the Art Center as an art museum. We are an art museum that's home to a world-class collection. We host a series of extraordinary exhibitions every year. I want to really reinforce that message: We are Des Moines' art museum. And we are one of this country's best art museums. We're going to be putting a lot of focus on the Art Center's creative programming. The curators and I are working on a very exciting series of exhibitions. We're interested in partnering with major, very prominent, midsize museums around the country. So again, advancing the identity of the Art Center as a Des Moines museum.
I have been thinking quite a bit about facilities. One of the reasons why I am at the Art Center is because of the three buildings in which the Art Center lives, which were designed at different points over the course of its history by celebrated architects. We've been doing a very good job of maintaining our buildings, but I'd like to pivot and really put an emphasis on preservation. We have a responsibility to care for these buildings in the long term. Two of them are on the National Register of Historic Places. That is an ethical responsibility. It's a responsibility that will never abate. We need a long-term strategy for preserving these three historic structures. So I'm thinking a lot about historic preservation. Related to that, I'm thinking about sustainability. So many museums are folding sustainability initiatives into their operational plan. I'm very interested in doing so. I like the idea of partnering with organizations in the state to think about how we can become as environmentally sustainable as we are financially sustainable. I'd like to tie that to creative programming at the Art Center, exhibitions, workshops, classes, that sort of thing. There are many living artists who are engaging with issues around the ecology of the environment. I'd like to bring more of them to the Art Center. Sustainability at the creative and the operational level will be important.
Who is the audience for fine art? Is part of your job to expand that? And does the Sculpture Park have a role in that public awareness?
Part of my remit as a new director is to expand the visibility of the Art Center — locally, nationally and even internationally. There are many ways to do that. And it's not easy. Some of it is branding and marketing. Some of it is programming. Strategic partnerships play a really important role: local and national strategic partnerships. The Pappajohn Sculpture Park also has a very important role to play. Now, the Sculpture Park is a collaboration between the Art Center and the city, the Parks and Rec Department in particular. We collaborate with one another to offer this incredible amenity. The Art Center owns and maintains the sculpture; the city owns and maintains the land. What I'd like to do is find a way to reinforce the connection of the Sculpture Park to the Art Center. I'm not sure it's entirely clear to everyone that when they visit the Sculpture Park, they're also visiting the Art Center. I've been doing a lot of brainstorming and having a lot of conversations with folks in town about how to really further strengthen the Art Center's relationship to the Sculpture Park.
Is there anything I did not ask you that I really should have and that you want people not only in Des Moines, but also in Iowa and the Midwest, to know about you or about your work here?
I really want to reinforce the message that the Art Center is an incredible resource for people in Des Moines and Iowa. They are so lucky to have a museum that can compete with other major museums in the country. It's a privilege to have a museum like this in your neighborhood, in your midst. So I really want to drive home that message. I also want to drive home the message that there are so many ways to engage with the Art Center. You can come for a lecture. You can come to hear an artist talk in a gallery. You can come to spend quiet time among beautiful works of art. You can come and take a class in our studios led by professional artists on ceramics, on painting, on metal work, on drawing and beyond. You can volunteer at the Art Center. You can have a picnic in the Pappajohn Sculpture Park. So there's no one way to engage with the Art Center. Really, whatever you need. As a human being, if you need emotional, intellectual, physical sustenance, if you need to be inspired, if you need a class, the Art Center can provide all of that. I also want to drive home the message that this is a really exciting time in the Art Center's history. It's our 75th birthday, we turned 75 this year. We are looking forward, we are looking up. There are exciting things ahead.
Is there a certain month you plan to celebrate that in?
It's a yearlong celebration. It's really culminating with two events in summer and fall. The first is our community lawn party, which is on Saturday, Aug. 19. And then the second is our annual gala, which is taking place on Friday, Sept. 22. The lawn party is open to anyone.
---
Hometown: Graduated from high school in Anchorage, Alaska, but has lived all over.
Education: B.A. in art history from the University of North Carolina, master's degree and Ph.D. in art history from the University of Delaware
Activities: Hiking, kayaking, reading
Contact: kbaum@desmoinesartcenter.org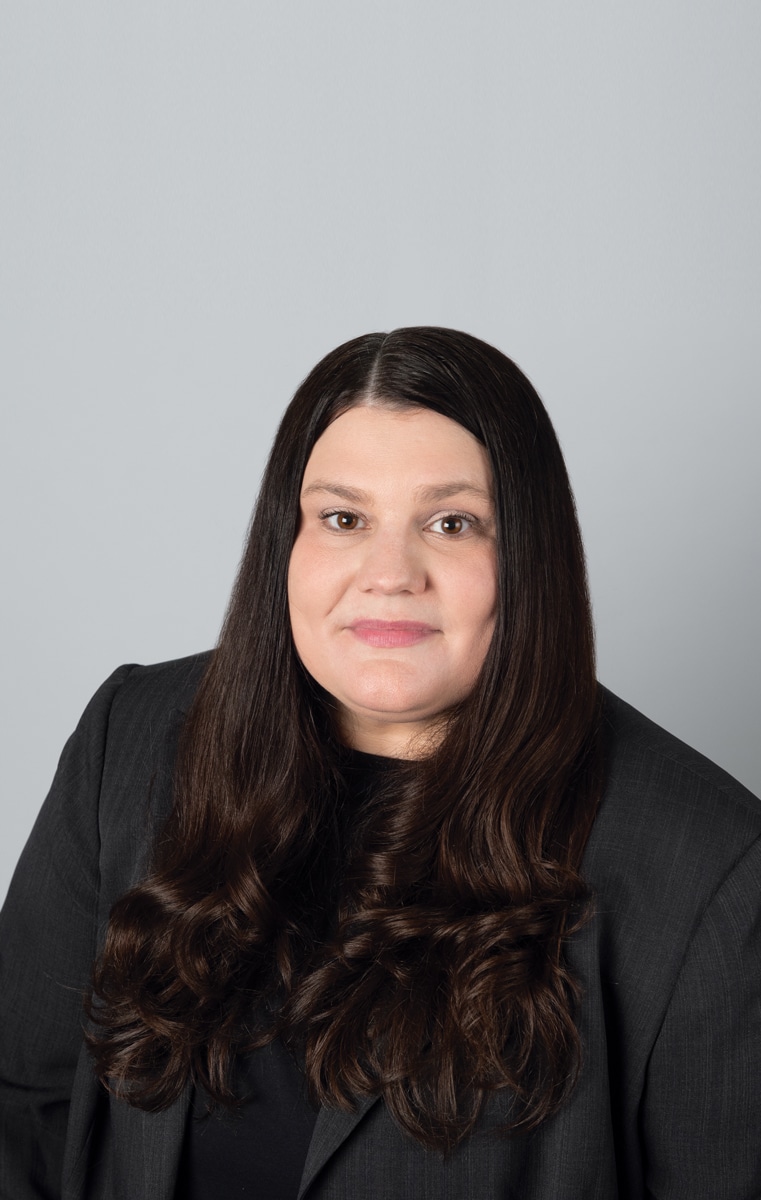 Nicole Grundmeier is a staff writer and copy editor for Business Record. She covers women's issues as well as other human interest stories.
Email the writer