A Closer Look: Mary Hunter
President and CEO, Goodwill of Central Iowa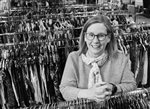 For the past 15 months, Mary Hunter has used a large whiteboard in her office as an evolving outline of the turnaround strategy that she has led as president and CEO of Goodwill of Central Iowa. The Johnston-based nonprofit saw some of its darkest days during the initial peak of the pandemic as she was coming on board in November 2020, with 75% of the staff at that time furloughed and two of its retail stores permanently closing.
Over the past year, Hunter has worked to take the organization back to the basics of fulfilling its mission of helping people with barriers to employment to be trained and find jobs. In July, Goodwill of Central Iowa raised its starting wage for employees to $15 an hour as part of a cultural revamp for the organization. Additionally, Hunter is determined that Goodwill of Central Iowa will more effectively reach out to the nonprofit and business communities to "tell people why we're here" and to engage in new partnerships.
Before joining Goodwill, Hunter for 12 years held several executive roles with the Juvenile Diabetes Research Foundation, at both the local and national levels. She also spent a large portion of her professional career with Hy-Vee Inc., where she was assistant vice president of real estate during the company's peak expansion period. She has served as commissioner for the Iowa Alcoholic Beverages Division. She currently serves on the state's Consumer Advisory Panel and is a member of the Clive Public Arts Commission. At Goodwill of Central Iowa, Hunter fills a role left vacant after the previous president and CEO, Jackie Norris, stepped down to take another position in 2020.
How was the organization doing when you started, and how have things progressed in your first year?
When I arrived in November [2020], two stores had been closed permanently, the leadership team was down to four people, and we were down to about 100 total employees, with 14 retail stores. So when I started I was working with the leadership team and the board chair, trying to figure out where to start. … I started looking at revenue, looking at culture, looking at mission — just diving in and learning the organization. … So we created a mission plan based off of those three pillars — people, mission and revenue.
At that time, we didn't have a mission department — they were just about all let go. We had less than a handful of people that were coaching and trying to keep our skills training program up and running. Everybody was just doing the best they could with what they had. So there was very little mission at that when I arrived. So then we started thinking about how we're going to do this and we said, "We're just going to go back to the basics. We're going to do what we do best." We're really good at skills training — that's the mission that we need to bring back. We're really good at placing people into jobs and then coaching them and helping them be successful in their roles — we're going to keep doing that. That's our lane right now.
It sounds like COVID's impact has been far worse than any previous recession, then.
To my knowledge, there's nothing that has impacted us the way COVID [has], because we're so public-facing. The doors were closed, and then there are the protocols of social distancing and cleaning. And our dressing rooms aren't open yet. So we continue to work in an environment that has certainly changed, and it's more than financial. It hit us financially, absolutely. But COVID is more than financial; it's changed the way we interact. In December [2021], more than a year after I started, we had our first in-person board meeting.
How has the strategic plan been progressing?
We took a pretty bold step in July when we announced we were increasing our wages to $15 an hour — a living wage. It helped not just the people we currently had employed, but also helped us get people in the door to hire. Culturally, I have a philosophy of empowering people to make decisions. So decisions are now being made at the very lowest level they can be. It's really just empowering people to do their jobs, and we've created an environment of love, kindness and respect. So we're seeing a big shift in culture. … Seventy-five percent of our operations is a warehouse environment where people are processing and producing; only 25% of it is a retail environment. I think that before I worked here, I never would have guessed that.
What's ahead this year?
We are going to go through what is called a DGR, which means donated goods retail optimization process. We're going to change how we process those donated goods in our back rooms and create some efficiencies and streamline it to create excitement in how we put it out onto the sales floor. Most of our customers are resellers — they're looking for treasures to put online and
resell. So how quickly we get those items out to the sales floor is going to make a huge difference. So the process change that we're making is that carts of new goods or inventory are going out to the sales floor every 15 minutes. It's going to create a buzz and an excitement not just for our employees, but for our customers as well. So we have 13 stores that over 12 or 13 months we're going to try to do one a month.
Tell me about how Goodwill's training center works. Do you train for employers as well as for your stores?
It's a little of both. We get referrals to our skills training program — we have two [training centers] up and running right now. Most of our retail skills training participants will be placed into a retail setting, whether that's a grocery store or some other sort of retail. And we have our warehouse logistics training, where they get certified in how to use a forklift, OSHA 10 certification, how to work with chemicals and different things. So they will most likely be placed in big-box store or warehouse. Those people who go through our skills training program are referred to us by the [Department of Veterans Affairs], by Polk County Health, Iowa Vocational Rehabilitation Services, etc. Once they're placed into employment, we coach them and help them to be successful. We want to place as many of those people in our operation as we possibly can.
A part of the mission that's back up and running [since being closed due to the pandemic] is adult day habilitation. It's for adults that may or may not ever be able to be employed. But it's an opportunity for them to socialize, learn how to buy a bus pass, learn how to do laundry through a life skills training program. So that's up and running on the south side, which has been phenomenal. And we're going to open up a second location here in our headquarters, so I'm really excited that we'll have those services in two locations.
How is the current workforce shortage affecting Goodwill?
It is absolutely impacting us. Before we made the decision to go to $15 an hour, we had 87 openings in our retail stores. That would have been at the end of July. By December, we were down to 37 openings. So that absolutely made a positive impact. We measure how successful that decision is by how much we're producing and selling. It's how many donated goods we are processing and getting that inventory onto the sales floor so that sales are being made. That's what makes the retail cog go around. It's not all about wages — we do employee engagement surveys. We're boots on the ground, asking our employees, what is it that you need? How can we retain you? How can we recruit your friends?
One of the things we used to say is that to work for us part time, you had to commit to at least 20 hours a week. That's out the door. We have to be more flexible. You might only be available to work Saturdays from 8 to noon. If you can hammer out and produce stuff for four hours on a Saturday morning, yes, you can have a job. We are definitely responding to the workforce. … We are working on a model of scheduling people based on [flow of] donations. Because that's the wheel. The donations come in the door, we process, we restock, we sell. So we have to change how we're thinking. And honestly, we need to work with our community to get more donations. Those are the donations that make it go round.
Beyond donations, will Goodwill's fundraising approach change?
The focus on fundraising will focus on grants, foundations and partnerships. We don't really have any partnerships going with any of our corporate community citizens here. We have such philanthropic, amazing corporate partners that we should and could be doing some more partnership work with. What does that look like? I don't know exactly. But we need to start having those conversations with those partners. We're going to start working on helping people understand why Goodwill exists, and working it back from the core out. We exist to help people with barriers find employment. How we help people find employment is helping with training and job coaching. What we do is sell donated goods to fund our skills training program. And so really helping our community understand that we exist to help people find employment. We don't exist to have stores.
How did your leadership philosophy of empowering people develop?
I have been blessed to have an amazing, amazing career. With many opportunities I have reported to different management styles, and I've learned what I like and don't like, what works well and what doesn't. … I know I do not like to be micromanaged. As we're hiring new people, I make it really, really clear I'm not a micromanager. If you need that, this is not going to be a good fit, you won't succeed and I'll be frustrated, you'll be frustrated. … I lead with love. I expect all of my leaders to lead with love. And I expect everybody to treat everybody with love, kindness and respect. And I tell them, it's not negotiable.
What are some favorite books or movies?
When people ask me this question, there are two books I always say. One is "A Man Called Ove." I don't know who wrote it. [It's Fredrik Backman.] And the other one is "Five Presidents" by Clint Hill. They're two entirely different books, but they're my favorites. And a great kids' book that I've bought for all my nieces and nephews is "Frindle."
What are your hobbies?
I love being outdoors. I love cooking — that's probably my favorite. My kitchen is my happy place. But we're doing this thing with our best friends. It's what we call our 99 County Tour, and it kind of started with COVID. It started with "Let's go to all 99 counties and see the courthouse," and then we said, "Well, let's have a beer, and let's have ice cream, let's just do something." My girlfriend was able to find this artwork with the state and all 99 counties outlined, and so we're coloring them in for depending on what year we went. And on the back we're writing what we did. … We are about a quarter of the way through. It's a blast.
Facebook Notice for EU! You need to login to view and post FB Comments!