Mitchell applies 'multithread' marketing tools to first book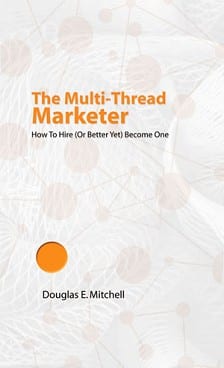 What does it take to harness the power of multimedia marketing tools without becoming overwhelmed by them? Douglas Mitchell, a Greater Des Moines marketing expert, has outlined a formula for success in his first book, "The MultiThread Marketer: How to Hire (or Better Yet) Become One."
Mitchell moved from Orange County, Calif., to Greater Des Moines in 2007 and founded createWOWmedia, a marketing consulting firm that he sold last year. He is currently vice president of marketing for BirdDogJobs.com, an Urbandale-based construction and engineering recruiting firm.
"Today there are far too many specialties and areas of marketing expertise that are required to succeed than one person can possibly master," he said. "As a marketing leader, I recommend assembling a team; you can accomplish a lot more, far faster."
Mitchell uses case studies to illustrate his multithread principles, among them work he completed for Boesen The Florist to help the Des Moines-based company build its online brand and social media presence.
The book is available at Amazon.com in both print and Kindle formats at $14.95 and $9.95, respectively, or on the publisher's website, www.FastPencil.com/marketplace.