Xceligent launches real estate advisory board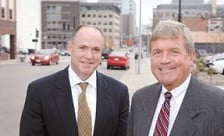 In order to retain a competitive edge in the marketplace, commercial real estate brokers rely on obtaining precise data about the office, retail and industrial properties they hope to lease or sell.
Xceligent Inc., a provider of property and listing information for the commercial real estate industry, entered the Greater Des Moines market in early 2009.
This summer, the Independence, Mo.-based company assembled a group of local real estate practitioners to firm up the details of commercial properties in the region.
The members of Xceligent's first commercial real estate advisory board in Iowa have identified the properties they consider to be "competitive" in four Greater Des Moines submarkets, said Kevin Talbot, a vice president of regional operations with Xceligent.
Beginning with the Central Business District, or CBD, Talbot said the board used Xceligent's database in conjunction with an online mapping program to pinpoint specific properties on the north, west and south sides of town.
"We fly around on Google Earth," said Talbot, adding that the board identified nearly 100 commercial properties in the CBD that it deemed to be competitive.
Older, run-down properties usually are not considered to be competitive, Talbot said. Neither are office buildings that have been converted into medical, educational or governmental facilities.
"If a broker has a tenant interested in space in the market, is this a property they would generally take that tenant to see?" Talbot asked, giving as an example how the nine-person board may make that call.
Now the board is researching into each property to confirm specific information such as who owns it, how much space is available and how much it costs.
The board includes Jason Lozano with Iowa Realty Commercial, Matt Lundberg with NAI Ruhl & Ruhl Commercial Co., Julie Brown with Terrus Real Estate Group LLC, Chris Curran with R&R Realty Group, Korey Birkenholtz with CB Richard Ellis/Hubbell Commercial, Dean Weitenhagen with Fleetwood Commercial Real Estate Services and Mark Patterson, a commercial deputy with the Polk County assessor's office.
Talbot and Chris Summers, a regional vice president of sales in Xceligent's Des Moines market, also sit on the board.
"This is kind of the pilot program," said Patterson, a former president of the Iowa Commercial Real Estate Association. "The whole purpose is to improve the quality and quantity of data that is being shared."
Once the board verifies the list and the accuracy of the data, Xceligent plans to begin producing quarterly reports that reflect trends in occupancy rates and lease rates.
"They determine if the building should be part of a statistical data set," Talbot said. Xceligent's research team will work each month to verify any changes to the information, and the board will convene on a quarterly basis to confirm it.
"We hope by the end of the quarter we will in fact have completed creating an inventory and established the baseline going forward," Talbot said.
Understanding the size, scope, location and quality of commercial properties is also crucial to industry professionals such as appraisers, who are charged with ascertaining the value of individual assets.
Before joining the assessor's office in 2006, Patterson brokered commercial real estate for 18 years. He now works to determine the fair market value of properties for tax purposes.
"We have to put value on every property," Patterson said, adding that he works primarily with office properties. But finding enough time to inspect each property individually can be difficult, especially with limited resources.
"We have limited manpower, how many people we can put on the street," he said. "So having good market data helps us be more accurate."
Patterson said his peers in the brokerage community will also benefit from the analysis and reporting of more up-to-date information.
"By increasing the quality and the quantity of the shared data that's available to all the brokers in the market, it's going to make them more professional, more knowledgeable," he said.
Talbot said Xceligent is working to distinguish itself in an industry dominated by companies such as CoStar Group Inc. He noted that the advisory board concept wouldn't fly without the knowledge and experience of the local brokers, all of whom have volunteered their time.
"Our hope is to get this office market completed and start generating quarterly reports in 2011," Patterson said.
Xceligent has formed commercial real estate advisory boards in 18 of the approximately 30 U.S. markets that it operates in. The first board was launched more than two years ago in Nashville.